Congressional Research Institute for Social Work and Policy (CRISP) tweeted part of my statement as to why social workers should care about public policy for Social Work Month 2014.  
Yes, I'm very macro, through & through. ~ Vilissa
These are a few images from the 1st social work conference I attended this week as a macro social worker, & disability rights consultant & advocate.  I conducted my 1st professional presentation, where I discussed the plight of people with disabilities, & how social workers can become visible & empowering advocates for PWDs.  It was an incredible experience, & it validated the mission & vision I have in creating my unique place & space in the disability rights movement.

I plan to write about this experience in next week's Ramp Your Voice! article.  This opportunity was a great networking experience, & I thoroughly enjoyed being amongst my fellow social workers! ~ Vilissa
talesofthestarshipregeneration:

I love these covers for obvious reasons

those are freaking gorgeous!

Black girl vampire huntress?!? Gimme!!
Though I'm not into vampire series, I may need to get into this!
Today was INCREDIBLE! I'm so thrilled that my presentation went so well! It felt amazing to speak about the work I'm doing, & the importance for social workers to get involved in disability advocacy. Those butterflies vanished when I began talking, & I'm very proud of what I accomplished with this opportunity.
I think that I'm ready for the next one, lol. I'm so blessed to have such amazing friends who love & support me as a person, & my vision. Being at this conference reinforced the need for this work, & I'm thrilled to know that my fellow social workers support me.
I celebrated this milestone moment with a sweet, delicious drink from the hotel bar, & I can enjoy the last day of the conference free as a dove. Lol. This experience was just what I needed, & I'm glad to have seize the moment. #HappyV
Supporting Team USA in the Sochi 2014 Paralympic Games
In late February, the United States Olympic Committee announced the 2014 Paralympic Team that will represent the U.S.
Florence "Flo Jo" Joyner, a runner known for her stylish flair on the track, set the world record for the 100-meter and 200-meter races at the 1988 Olympics in Seoul, South Korea.
Wilma Rudolph, a record-breaking track star, was born the 20th of 22 children and stricken with polio as a child.  Overcoming polio, she went on to break world records in three Olympic track events, and became the first American woman to win three gold medals at a single Olympics in 1960.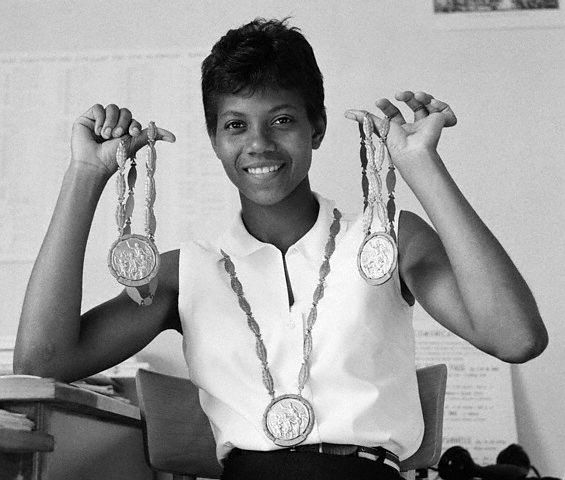 February is Black History Month and an ideal time to learn about and recognize the contributions and history of African Americans. We've gathered some great resources you can share with students in February or any day.

Writers, illustrators, and storytellers

Video interviews with children's book authors and illustrators

Watch Reading Rockets' interviews with celebrated African American children's book authors and illustrators, and children's literature historian, Leonard Marcus, who talks about the history of multicultural children's books in the U.S. from the 1960s onward.

Watch the full interviews with these award-winning authors and illustrators:

Ashley Bryan

Bryan Collier

Christopher Paul Curtis

Nikki Giovanni

Nikki Grimes

E.B. Lewis

Leonard Marcus

Patricia and Frederick McKissack

Christopher Myers

Walter Dean Myers

Kadir Nelson

Jerry Pinkney

Charles R. Smith, Jr.

Jacqueline Woodson
If Tolkien Were Black by Laura Miller (full article here)


N.K. Jemisin (left) and David Anthony Durham

Looking at the most visible exemplars of epic fantasy — from J.R.R. Tolkien to such bestselling authors as George R.R. Martin and Robert Jordan — a casual observer might assume that big, continent-spanning sagas with magic in them are always set in some imaginary variation on Medieval Britain. There may be swords and talismans of power and wizards and the occasional dragon, but there often aren't any black- or brown-skinned people, and those who do appear are decidedly peripheral; in "The Lord of the Rings," they all seem to work for the bad guys.

Our hypothetical casual observer might therefore also conclude that epic fantasy — one of today's most popular genres — would hold little interest for African-American readers and even less for African-American writers. But that observer would be dead wrong. One of the most celebrated new voices in epic fantasy is N.K. Jemisin, whose debut novel, "The Hundred Thousand Kingdoms," won the Locus Award for best first novel and nominations for seemingly every other speculative fiction prize under the sun. Another is David Anthony Durham, whose Acacia Trilogy has landed on countless best-of lists. Both authors recently published the concluding books in their trilogies.

Although they came to the genre from different paths, both Jemisin and Durham have used it to wrench historical and cultural themes out of their familiar settings and hold them up in a different light. "I never felt that fantasy needed to be an escape from reality," Durham told me. "I wanted it to be a different sort of engagement with reality, and one that benefits from having magic and mayhem in it as well."

In Durham's trilogy, four royal siblings are deposed and then fight their way back to the throne in an empire presided over by the island city of Acacia. Their dynasty's power resides in a Faustian bargain made with a league of maritime merchants: the League supplies a rabble-soothing drug in exchange for a quota of the empire's children, who are sent off across the sea to meet an unknown fate. As promised, "Acacia" is a sweeping yarn filled with adventure, intrigue, sorcery and battles.

Jemisin's series, too, is set in the capital of an empire that has been run by an aristocratic clan for generations. The power of the Arameri family, however, resides in the gods — specifically a pantheon of deities whom they have imprisoned and enslaved. The narrator of "The Hundred Thousand Kingdoms" is the daughter of a renegade member of the clan who ran off with a foreigner. Raised in a remote kingdom with its own fiercely independent customs, she returns to the capital seeking information about her mother and, once there, becomes embroiled in vicious palace intrigues.

She made the main character a woman and, in an even more marked departure from the norm, she decided to have that character narrate the book in the first person. "I knew that what I was writing was inherently defiant of the tropes of epic fantasy," Jemisin said, "and I wasn't sure it would be accepted."

When Durham decided to write an epic fantasy, he set out to recapture the enchantment he felt as a 12-year-old, discovering Tolkien at his father's house in Trinidad, while "brushfires and buzzards" ranged over the neighboring hills. Jemisin, on the other hand, based her trilogy on "the old-school epics: not Tolkien, but Gilgamesh." The gods in her imaginary world evoke the squabbling divine families of the world's great myths: "The ancient tales of mortals putting up with gods and trying to outsmart gods, of trickster gods outsmarting other gods: That's the basis of my work."

"The genre can go many, many more places than it has gone," said Jemisin. "Fantasy's job is kind of to look back, just as science fiction's job is to look forward. But fantasy doesn't always just have to look back to one spot, or to one time. There's so much rich, fascinating, interesting, really cool history that we haven't touched in the genre: countries whose mythology is elaborate and fascinating, cultures whose stories we just haven't even tried to retell."
Seems like 2 great series to check out!
Civil rights activist Ida B. Wells was one of the first American women to continue to keep her last name after her marriage.