Today's writing prompt:  How often do you go back for seconds?
It depends on the dish.  If it's a pasta, potato, rice, and/or a very cheesy dish, you better get out of my way because I'm heading back to get a second helping.  I'm a carbs girl, so I love side dishes.  Those starchy dishes fill me up greatly.  The only meat that I would go back for seconds is shrimp.  
I'm a picky eater, but my food palate has broaden as I've gotten older.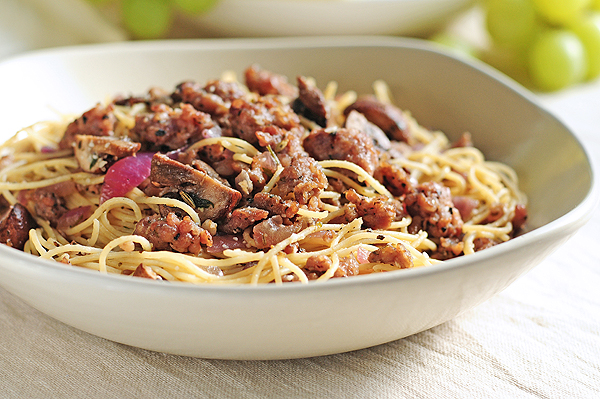 (This is an example of the many pasta dishes I love.  This is pasta with Italian sausage.  The Italian restaurant in my hometown makes a delicious red tomato sauce version of this dish that I absolutely love.)
December 3rd is International Day of Persons with Disabilities (IDPwD)
by Vilissa Thompson, LMSW

December 3rd is International Day of Persons with Disabilities (IDPwD).…
Today's writing prompt:  Do you see the glass as half full or half empty?
I try to see the glass as half full, for the most part.  I'm a naturally optimistic person, though I do have worrier tendencies.  I try not to let my worries create pessimistic undertones in how I view negative situations or people.  I try to find the good in all things, even if there's only a morsel of good to be seen.  Seeing the glass as half full allows me to find ways to overcome the barriers that are present.  Instead of focusing on what may be an obstacle, I redirect my energy so that I can find the life lessons/takeaways to learn from such an incident or encounter.  Coming from that angle has proven to be a better use of my mental & physical energies time & time again.  
At the end of the day, I know that I am responsible for how I view the situations that occur in my life.  If I approach each situation as a learning experience, no matter the difficulty, then I'll be able to look back on that moment as a period of growth than one of despair.  
Today's writing prompt:  Do you think you're more or less likely to complete December's NaBloPoMo?  Why?
I think that I can complete this month's NaBloPoMo challenge, even though December is a hectic month with Holiday season shopping & celebrations.  The writing prompts helps me to get my creative writing juices flowing.  They allow me to take a break from writing about serious subject matters, & focus on writing about randomness.  The writing prompts also help me to fine tune my writing skills.  A good writer always makes time to write something, & these prompts allow me to be accountable as a writer who seeks to strengthen her writing abilities.  
So yes, I believe that I will be able to complete the NaBloPoMo challenge for December!  
Today, I am incredibly thankful to live to see another Thanksgiving with those I love.  2013 has truly been the year of change & surprises, & I'm grateful for each experience.  My life has undergone a true metamorphosis; I am creating a career that fits my life's truth, I have met some amazing supporters in my disability rights & advocacy efforts, & for the first time in my life, I believe that I am fulfilling my life's purpose.  Things may not be where I would like them to be at this point, but I know that God has it all worked out.  All I need to do is keep focused on my goals, & watch God work. 
On this Thanksgiving day, I am extraordinarily blessed & highly favored.  
Happy Thanksgiving, everyone!  
Today's writing prompt:  How do you feel about the first blog post you ever wrote?
The first blog post on Tumblr was about who I am as a person, & why I began blogging.  At that time, I had just finished graduate school, & was in the midst of job hunting.  I loved to write, & I felt that creating a personal blog like this would be the perfect outlet for me.  During those 1st days of blogging, I used it as a semi-diary; I discussed issues that I was experiencing at that moment, as well as shared some of the views I had about the world.  It has been close to a year and a half since I created this blog, & I love how my writing skills has strengthen in ways that it wouldn't have if I hadn't began blooging.  This blog has opened a few writing opportunities for me as well, so I've experienced both personal and professional growth as an aspiring writer.
Blogging has allowed me to become more creative & reach others with my words.  I am proud to wear the title, "Blogger."
Today, I'm thankful that I received good news about the surgery of the relative I mentioned earlier this week who had severe health problems.  The procedure they underwent this morning was a success.  They're recuperating at the hospital, & may be able to come home tomorrow for Thanksgiving.  Receiving such good news about this matter is a blessing, & I'm rejoicing over the goodness of God.
So today, I'm thankful for the good news, & hopefully speedy recovery of my relative.  
Today's writing prompt:  What accomplishment are you most proud of?
The accomplishment I'm most proud of is owning my truth as a woman of color with a disability.  Being a triple minority is a fate that I was handed, but it doesn't have to define my destiny in life.  I can use my truth as a way to influence & inspire others to accept & live out their own truths, & that's exactly what I'm doing with Ramp Your Voice!  I want to allow other minorities with disabilities to have a platform where they can share their truth as a triple minority, & hopefully empower others to do the same.  In life, you can choose to either make delicious pink lemonade (I'm from the South, & pink lemonade rules) with the lemons life has given you, or you can sit back & suck on the lemons & expect them to become miraculously sweet… the choice is truly yours.  
When you own your truth, others will be unable to use the negative aspects of it against you.  No one can make me feel inferior about being an African American woman with a disability without my permission, & there's no way that I'll give them that permission in the first place.  
Recognizing November as National Family Caregivers Month
by Vilissa Thompson, LMSW

On October 31st, 2013, President Barack Obama issued a presidential…
Today, I'm thankful to be a woman.  I own my femininity, & I love the beauty that I possess as a woman.  Women are complex beings, but our complexity is what makes us true goddesses and sought after.  We're nurturers, deeply connected to our emotions, and have an intuition that tells us when something's off about our mate (and rarely ever fails us).  Women are incredibly strong, yet often mistreated because of the "weaker sex" views.  Women are not weak; the fact that we're able to endure childbirth proves our innate strength and ability to bring forth life.  I am very proud to be a woman, & it's a fate that I wouldn't change for the world.